We can divide the charging types in two: quick recharge and normal one. We also can follow the internacional rules, which marks several systems:
Convencional recharge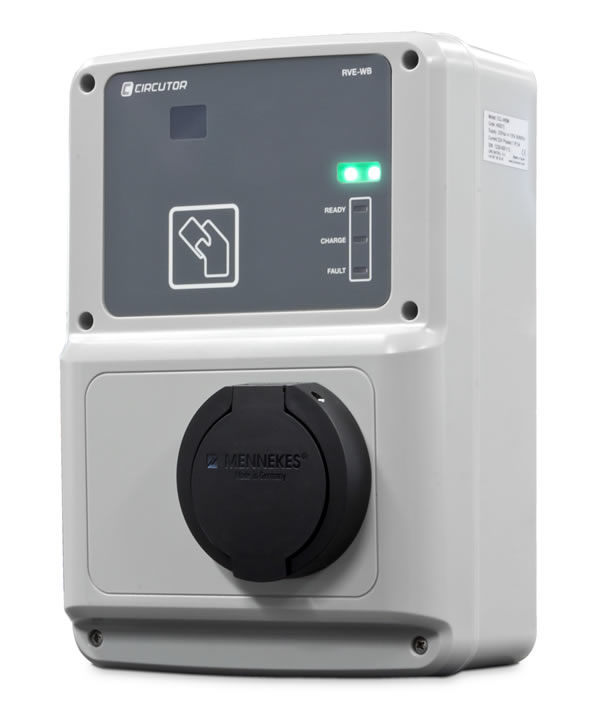 At home
The conventional or slow recharge is intended for the domestic burden. However, much of the existing charging points in cities currently have this technology. Recharging takes about eight hours, and is intended to take place preferably at night by supervalle rate discrimination.
Quick rechage
There is confusion about what is meant by the concept of quick recharge, and no agency currently regulates this concept. Quick recharge must be taken in a station outside our house and we can recharge 70% of the battery in less than 30 minutes. The most frequently used standard connector such CHAdeMO recharge is Japanese. Recharging is done in current, and allows a current of up to 200A. Charging devices are not designed nor recommended for private garages due mainly to its high cost, for the product and the installation.
The way to charge electric cars is an evolving issue and research. It has been standardized by the different modes of loading, resulting in 4 different charging modes.
Recharge mode 1
The reload mode # 1 (or charge mode 1) is one mode of an electric vehicle load, not exclusively to the load. Stated another way, is one that is performed in a classical domestic plug, which is intended to temporarily or continuously to the charging of electric vehicles.
The system is easy as one, is to take a cable of our plug type Shucko 230 V to our vehicle. (See diagram).
Recharge mode 2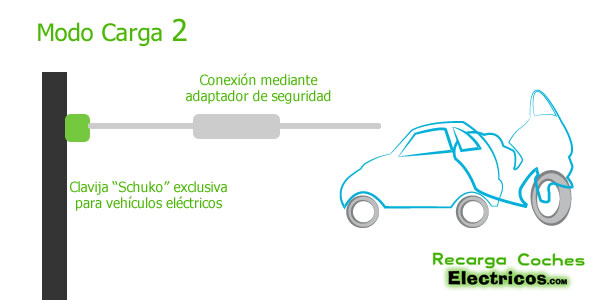 Charge mode 2, as shown in the diagram, consists of the installation of a box with a plug "Shuko" (the charging station).
In recharging mode 2, connecting the car is not performed directly as recharge mode 1, but is made through a cable in which the manufacturer has inserted a security system.
Recharge mode 3
This charging mode is mainly composed of a device called charging poit, a box mounted on the wall, with an plug exclusively for electric vehicle charging. This charging station has some protection systems and also it can incorporates LEDS to show the charge status, timer to clocking the charge, etc.
The connection to the vehicle is done by a current cable that manufacturers want to assimilate to a fuel pump.
Charge mode 4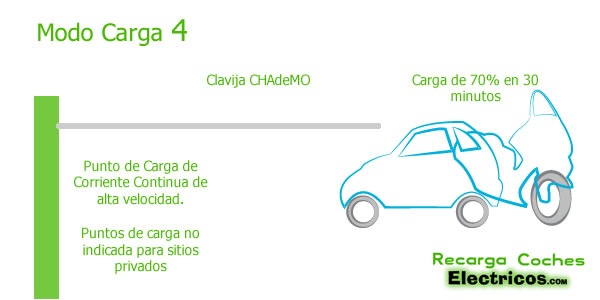 Charge mode 4 is the way to implement the electric vehicles charging in the streets and electric stations. This mode is called the quick-charge mode, made by high intensity current.
SOURCE: http://www.recargacocheselectricos.com/tipos-carga-coches-electrico/