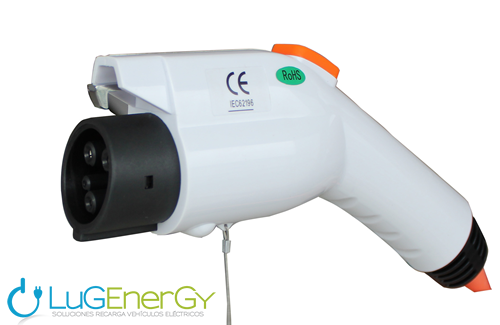 It was developed in the U.S. by the Society of Automotive Engineers.
It is the ultimate connector for electric cars, because they incorporate the following models:
·     Nissan Leaf
•    Chevrolet Volt
•    Fisker Karma
•    Coda Automotive sedan
•    Toyota Prius Plug-in Hybrid
•    Mitsubishi i MiEV
•    Honda Fit EV (concept)
•    Ford Focus Electric
•    Smart electric drive
•    Tesla Roadster
•    Tesla Model S
•    OKA NEV ZEV AC
•    Th!nk City
•    Renault Kangoo Z.E. (230 V – 16 A max.)
•    Renault Fluence Z.E.
•    BMW ActiveE
SAE J1772 is an ordinary socket, which has the typical shots current, phase and neutral (plus ground) any phase plug. But this socket is special becausa have two plugs for increasing the communication system between the vehicle and the charging point. Furthermore, its design is thought to stop any unautorized access.